RC200 Powersports Rim Clamp Tire Changer
$7,829.00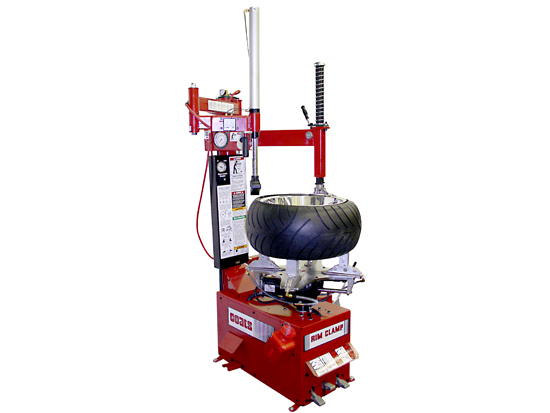 The Coats RC200 EX features newly designed powersports rim clamps that provide extra clearance for sprockets and your choice of three optimized positions. The RC200 can clamp rims up to 23" and they work just as well for smaller ATV rims down to 6" so you can handle virtually any wheel that rolls in. This equipment has been validated by Polaris for use on all Polaris models including Slingshot.


Features
Superior Bead Loosening System - Optimized for motorcycle wheels with a contoured pad and back-up system. Two positions for wide chopper tires or very narrow tires to minimize the risk of wheel damage during service.
Powerful "Extra Hands" Do Most of the Work - The Robo-Arm® Helper Device provides extra power for flexing stiff sidewalls. Manual drop center aid also reduces effort needed for tough tires so your technicians can concentrate on efficiency.
Complete Protection for Expensive, Delicate Wheels - The Coats® RC-200 tire changer provides protection for wheels at every step of the process. Bead loosener socks, clamp booties, and lift tool protection help prevent metal-to-metal contact that cause
New Gear Reduction Turntable - Protects expensive rims and gives operator more torque at lower RPMs for more precise control over larger installs.
Manual Drop Center Tool - Assists in handling stiff sidewall tires by providing extra leverage. Reduces operator effort and fatigue.
Inflation Gauge - For safety and accuracy.
Ergonomic Foot Controls - Reduce fatigue, speed up operation, and help prevent mistakes.
New 3-Position Motorcycle - Rim Clamps Specifically designed for motorcycle rims to provide the grip and protection you need for wider wheels.
Other Hennessy Industries, Inc. Products